10-18-2021 10:36
KUNMING, Oct. 15 (Xinhua) -- Part one of the 15th meeting of the Conference of the Parties to the Convention on Biological Diversity (COP15) closed Friday in Kunming, capital of southwest China's Yunnan Province, setting the stage for the adoption of an effective post-2020 global biodiversity framework at the resumption of the meeting in 2022.
A total of 2,918 delegates in Kunming, as well as 2,478 via video link, participated in the High-Level Segment, the Ecological Civilization Forum and other activities, according to the organizers.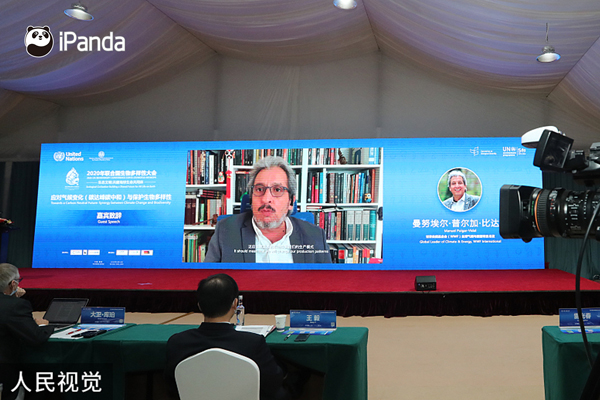 The conference saw the adoption of the Kunming Declaration, where Parties to the Convention on Biological Diversity (CBD) committed to negotiating an effective post-2020 global biodiversity framework that can bend the curve of biodiversity loss.
It was announced that China will take the lead by investing 1.5 billion yuan (about 233 million U.S. dollars) to establish a Kunming Biodiversity Fund to support biodiversity protection in developing countries.
An initiative of "protecting biodiversity and building a global ecological civilization" was also issued, calling on all parties to uphold the concept of a community with a shared future for humanity and work together to build a beautiful world in harmony with all species.
Thirty-six Chinese banking and financial institutions and 24 foreign banks and international organizations issued a joint declaration on support for biodiversity conservation by banking and financial institutions, further stepping up efforts to support biodiversity.
"With the conclusion of the first part of COP15, we have taken a critical step towards writing a new chapter for our planet and for our societies," said Elizabeth Maruma Mrema, executive secretary of the CBD.
"The adoption of the Kunming Declaration, and the strong political direction provided by many ministers has put us firmly on the path to the adoption of an effective post-2020 global biodiversity framework that will engage the entire world in the task of putting nature on a path to recovery by 2030," she added.
Huang Runqiu, Chinese Minister of Ecology and Environment and COP15 President, said global environmental governance is facing unprecedented challenges and the international community must work together to strengthen cooperation on the construction of global ecological civilization and biodiversity conservation in order to achieve sustainable world development and all-round human development.
"As the president of COP15, I sincerely hope that the parties will maintain this valuable spirit of cooperation at part two of COP15, give strong support to my work and advance the process of the Convention. I will earnestly perform my duties as president of COP15, work together with all parties, translate consensus into practical action, and actively promote the attainment of important achievements, such as the post-2020 global biodiversity framework," he said.
(Photo credit: CFP.CN)

END