10-12-2021 13:41
More than 2,500 rare plants are on display at greenhouses in southwest China's city of Kunming, Yunnan Province. Known as "Kingdom of Plants," the greenhouses are a vivid showcase of how biodiversity has developed in China.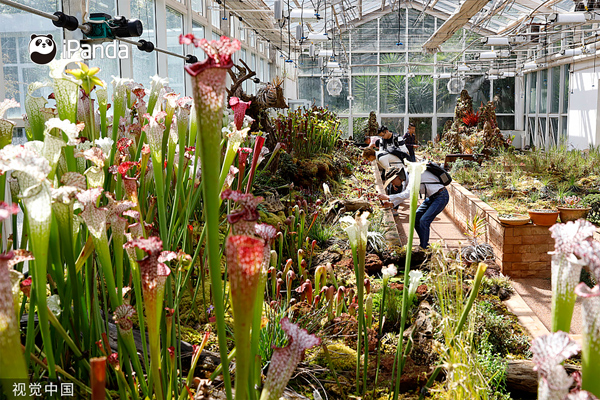 The Fuligong Greenhouses in China's Kunming Institute of Botany under the Chinese Academy of Sciences are one of the biodiversity demonstration areas for the 15th meeting of the Conference of the Parties to the UN Convention on Biological Diversity (COP15), which begins Monday in Kunming.
"Fuligong" is the earliest greenhouse with written records in the world. It was built in the Fuligong Palace during the reign of Wu Di in the Han Dynasty (202 BC–220 AD) to preserve exotic flowers and fruits from south China.
In 1986, famous botanist Wu Zhengyi named the newly-built greenhouses in Kunming Institute of Botany the "Fuligong Greenhouses."
To welcome COP15, the Fuligong Greenhouses have been reconstructed to demonstrate the biodiversity and unique ecological landscapes. The main body of the Fuligong Greenhouses takes up an area of 4,200 square meters, featuring tropical aquatic, tropical fruit, tropical rainforest and tropical desert zones.
"We've opened an orchid hall and a lichen hall. There are more than 100 types of lichens and mosses [at lichen hall]. In the orchid hall, there are more than 300 types of orchids, mostly of the Dendrobium species," said Shan Zupeng, a staff member at the Kunming Botanical Garden of the Kunming Institute of Botany.
In the insectivorous plant hall, the most exotic of the Fuligong Greenhouses, visitors have the chance to see 680 kinds of insectivorous plants with the ability to catch little insects, including pitcher plants and Roridula plants.
The fern hall of the Fuligong Greenhouses displays more than 800 kinds of ferns, including tree-like spinulose ferns, an ancient species that used to be feed for herbivorous dinosaurs.
(Photo credit: CFP.CN)


END