04-12-2019 15:44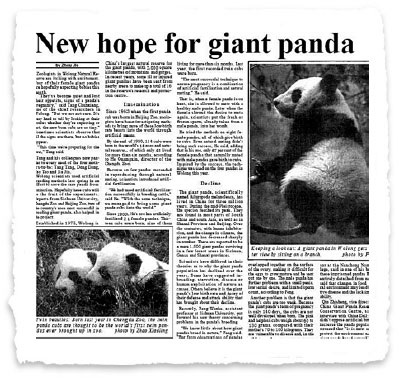 Established in 1963, the Wolong National Nature Reserve in Sichuan province covered 20,000 hectares. It was among the first to protect endangered species such as wild pandas.
In 1975, the reserve was further expanded, covering an area of about 200,000 hectares.
To better protect pandas, the Wolong special administrative zone was established in March 1983.
The plight of the giant panda in the 1980s made headlines, as seen in an item on July 23, 1991, in China Daily.
In 1987, the Chengdu Research Base of Giant Panda Breeding was set up in Sichuan.
Besides Wolong, China has 67 nature reserves for the protection of giant pandas. The wild giant panda population has increased from 1,114 in the 1970s.
It was estimated that there were 1,864 wild pandas and 375 captive pandas worldwide as of the end of 2013, according to the country's fourth panda census.
Last year, 48 captive giant pandas were born worldwide, according to Li Chunliang, deputy director of the National Forestry and Grassland Administration.
More than 80 percent of the world's wild pandas live in Sichuan, with the rest in Shaanxi and Gansu provinces.
The administration said that 17 countries and 22 zoos have launched giant panda protection research projects with China.
To further protect the species, a giant panda national park will be built, covering 27,134 square kilometers and spanning parts of Sichuan, Gansu and Shaanxi provinces. It will be three times the size of Yellowstone National Park in the United States.
Researchers said the new park is expected to help wild pandas isolated on six mountains across the three provinces to mingle and strengthen their gene pool.
In October, the administrative bureau of the Giant Panda National Park was formally established in Chengdu.
END