06-20-2019 14:42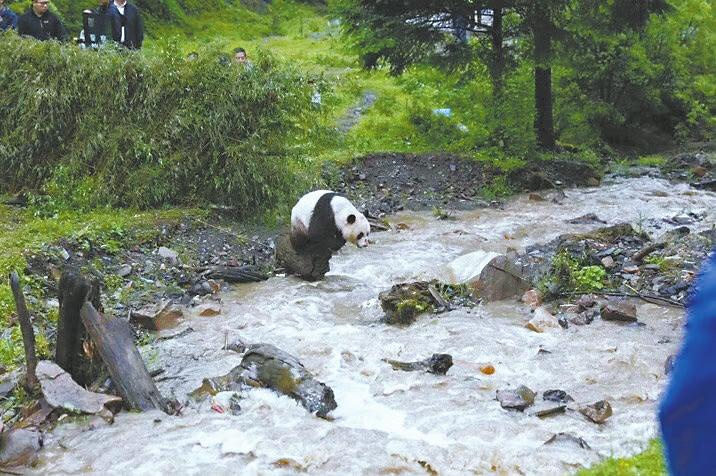 A giant panda that fell sick and was rescued by villagers returned to the wild on Saturday after 10 weeks of treatment.
The wild bear was found by villagers in Jiuzhaigou county, Sichuan province, on April 5.
The Chengdu Research Base of Giant Panda Breeding sent a team of two veterinarians and a breeder to rescue the rare animal in Jiuzhaigou.
The panel examined and diagnosed the giant panda as an adult female, presumably aged between 7 and 8 years, severely dehydrated and suffering electrolyte disorder, metabolic acidosis, infection, anemia and cardiac dysfunction.
After more than two months of intensive treatment and nursing, the panda's food intake and mental state gradually improved.
She now weighs 85 kilograms, 10 kg more than at the beginning of the treatment. Experts believe her weight is normal. Female giant pandas in captivity aged around 8 usually weigh 95 to 120 kg.
Her daily defecation has increased to more than 10 kg from a very small amount when she was rescued. Captive giant pandas her age usually defecate 15 to 30 kg a day, depending on how much they eat.
As all her physical signs were normal, and because she is still wild, she was eligible for release into the natural environment, according to the rescue panel.
The giant panda was spotted wandering down the mountain toward human habitations in early April. Villagers reported the incident to the administration of the nature reserve and were asked to leave her alone after providing clean water and bamboo for her.
The panda drank some water but ate nothing before leaving. She showed up in the same area the next day, appearing weaker and making a forlorn cry. She was passive when people approached her.
END